CMS Shopping Cart Website Package $2800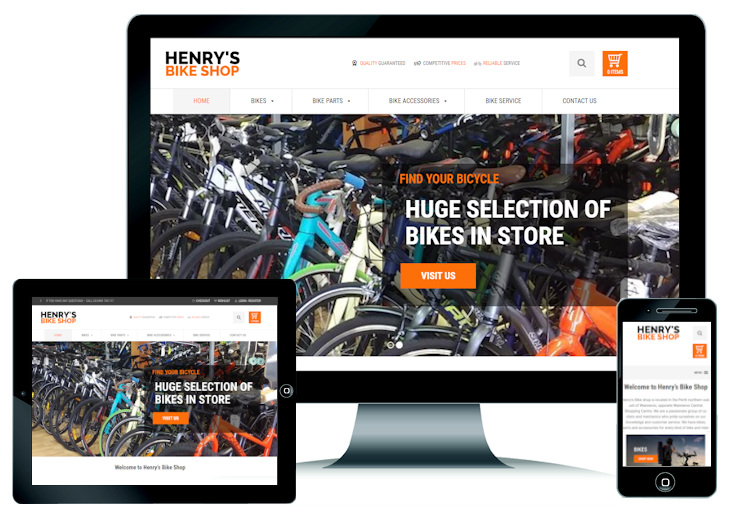 Do you want to expand your current retail business to sell online? Or are you looking to start an online retail store?
This professional Shopping Cart package is great value for money using quality software and styling to match your requirements. Your online store can be up and running within a few of weeks.
Included in this package is:
1 Year FREE Domain Name registration i.e www.yourrequestedname.com.au (requested name is subject to availability). Yearly cost of your domain name is $35.00

1 Year FREE Web Hosting (High Performance) – includes 5GB of Disk Space, 10 Gigabyte of data transfer per month, 10 Mailboxes, Web Mail and much more. Web Hosting is on a yearly subscription basis of $99.00.

Shopping Cart Software – including many great features.

CMS System – full access to a content management system to allow you to manage your website pages, blog, products, orders, newsletters and much more.

Payment system – set up to receive payments via online merchants such as PayPal, Stripe, Afterpay and many more.  (Australian bank gateways also available at an additional charge).

SSL certificate – your website will be secured with an SSL certificate so your customers will feel confident to purchase from your website.

Integrated email marketing system so you can send professional newsletters to keep your customers up to date with your products and services. (Light version for up to 2000 subscribers, premium version also available at an extra cost)

The set up of the initial 5 categories and adding up to 25 products. You can then add more categories and products through the easy to use control panel.

1 Website Consultation within the Perth metro area and surrounding suburbs (if required).

1 hour Cart Training Session within the Perth metro area and surrounding suburbs or access to training video & remote support.

Includes all Meta Data ready for SEO (Search Engine Optimization).

Search Engine Submission – We would submit your website to various search engines that offer free submission. Even though no guarantee is given that your website would be included in search engines or that it will receive top rankings, our submissions are normally quite successful.

Website Software Maintenance Package on a yearly subscription basis of $295.
Things you should know about this website package.
Shopping Cart Software
Zap IT web solutions use quality PHP shopping cart software that is secure, user friendly and offers many outstanding features. Ongoing support and software upgrades are also available to keep your store up to date.
Additional Products, Categories, & Updates
After your Shopping Cart handover you would be able to take control of you online store and manage all your content, add new products, change prices, offer discounts and much more. However, Zap IT web solutions does offer online store management services if you prefer us to look after the website for you.
CMS software
This package is built to work on open source CMS software. This enables the implementation of new technology as it becomes available with constant software and system updates to keep your website running smoothly into the future. Zap IT web solutions will advise which software to use based on your web requirements.
Mobile Friendly
All new websites created by Zap IT web solutions are mobile compatible.  Your website will be built using current international web standards without code errors allowing the website to be displayed properly no matter what web browser is being used.
Website Updates
This CMS package allows you to easily manage and keep your website up to date.  However, if time is an issue Zap IT web solutions would be happy to update your website information as required at very affordable rates.
Website Software Maintenance Package
It is crucial that websites running software such as: Shopping Carts, Word Press, Content Management Systems etc, are updated on a regular basis. Without proper maintenance your website software can become outdated which makes your website vulnerable to security risks and hackers. By maintaining your website software you significantly lower the risk of having your website compromised.
New versions of website software often address security issues – this means that the older version is vulnerable to hackers. Therefore, it is imperative for this kind of software to be updated regularly.
No Hidden Costs
There are no hidden costs in this website package, no ongoing fees apart from the Domain Name and Web Hosting if they are registered with us (Total $134.00 per year) and the Website Software Maintenance Package at $295 per year.
Additional Features
There are so many web gadgets and tools in the World Wide Web – we can't list them all here. If there is a specific requirement for your website please contact us for a quote.  Some items available are: Live Chat, Forums, Membership Database, Support Systems, Hotel, Tours and Event Reservation Systems plus many more.
Examples of our CMS Shopping Cart Website Package
If you would like us to contact you to discuss your website requirements please complete this quick contact request form